Michael Karcher-Young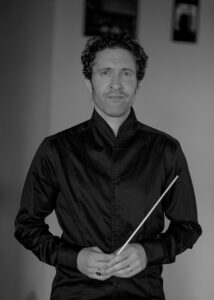 Winner of the Audience Prize at the Leeds Conductors' Competition for his "electric conducting", Michael Karcher-Young combines an innate musicianship with a visceral presence on the podium, and is a passionate advocate for classical music.
Michael's revision of Christopher van Tuinen's orchestration of Bartok's Bluebeard's Castle is of a piece with his growing reputation as an orchestrator and editor, having worked on symphonic music by David Matthews, Steve Elcock, Adrian Williams and Kenneth Woods; John Joubert's magnum opus opera 'Jane Eyre' and the art-song of Undine Smith-Moore and Florence Price.
Since the pandemic began he has amassed following of over 10,000 on Tiktok with his irreverent takes on conducting, piano and music in general. He continues to teach online to students of all ages and thrives on sharing his love and passion for what makes music really work with each student.
Michael is Artistic Director and co-founder of the Beethoven Orchestra for Humanity, formed around a new vision of the orchestral concert in today's world. The inaugural crowdfunded performance was a sell-out and universally acclaimed and plans are well underway to realise this in a post-pandemic world. He was appointed Assistant Conductor of the English Symphony Orchestra in 2017 where Michael enjoys a close relationship with key British contemporary composers whose work the orchestra extensively performs and records to great acclaim.
More detail to follow: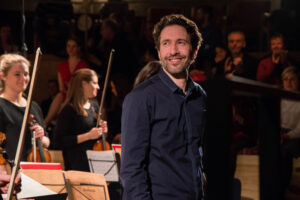 Karcher-Young previously served as Music Director of both London Youth Opera and Little Operations; founding Conductor of the Vanbrugh Ensemble and the Charities Philharmonia; and Principal Conductor of the Dorking Chamber Orchestra. He has also worked with the London Philharmonic, English National Opera and Grange Park Opera.
Michael began conducting whilst an undergraduate at the University of Leeds where he was awarded the Lord Snowden Prize for raising the profile of classical music at the university. Here he formed the Leeds University Union Symphony Chorus and established a series of charity concerts in aid of Cancer Research UK at Leeds Town Hall that continue to this day. Whilst studying postgraduate conducting, piano and harpsichord at the Royal College of Music, Kurt Masur awarded Michael the London Philharmonic Orchestra Conducting Fellowship and following this he became the Sir Charles Mackerras Fellow at Trinity Laban Conservatoire, London. Michael is a proud alumnus of Agnes Kory at the Bela Bartok Centre for Musicianship.