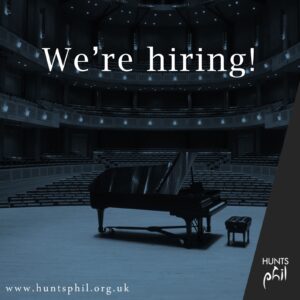 Advertisement for orchestral and choral conductors
The Huntingdonshire Philharmonic Society is seeking both an orchestral conductor and a choral conductor from September 2022. These rôles could be held by one person, or by two who would be expected to work closely together in the preparation of concerts.
The Hunts Phil, which has been in existence for nearly 50 years, has a strong local reputation for excellence. Our repertoire is wide, including sacred and secular works, both traditional and contemporary for the choir and, for the orchestra well-known 'classics' and some less well-known pieces.
Our concert programme comprises six concerts each year: Two joint and two orchestral in the Performing Arts Centre at Hinchingbrooke School, Huntingdon and two choral concerts in St. Mary's Church, Godmanchester.
Rehearsals are in Godmanchester from 7.45 to 9.45 on Tuesday evenings for Choir and Thursday evenings for Orchestra.
We are looking for an all-round music professional with a proven track record of working with societies similar to our own.
Candidates should submit a brief letter of application together with a copy of their curriculum vitae and the names and addresses of two referees to Bronwen Rayner, Chair of the Hunts Phil
Shortlisted applicants will be invited for interview in March. Auditions with the full orchestra and choir will take place in April & May.
Closing date for applications is Friday 18th February 2022. Details of our rehearsal and concert fees are available on request to the Society Chair.